Posted by the dood on Monday, October 26th, 2009
In light of all my complaints, I decided that I should let others know that I in fact DO have good customer service experiences. I guess pointing out all my negative experiences really makes me seem like a negative person.
Where I shop for knives and swords: Warriors and Wonders! Its a shop on Cambie and 17th-ish in Vancouver… and run by a guy named Jay and someone who appears to be his brother helping him out on Saturdays. This shop used to be open all week but because his online business has become so busy, he is only open Fridays and Saturdays now. He carries Benchmade, Spyderco, Emerson, Cold Steel, Kershaw and many other big name blades. Benchmade is his latest acquisition.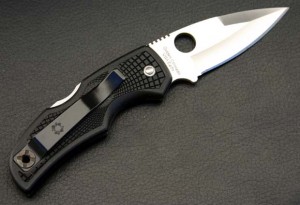 If you're a sword person, he carries all the stuff from Cold Steel and Hanwei, and a lot of them. The thing is, Jay buys more Spyderco Product than most of the stores in the US, so he has more inventory and more stock of the Sprint Run stuff than any other seller in Canada at least.
Jay always jokes about being off-beat and listening to heavy-metal in the store and being opinionated, but the thing is he's great with customers and his prices are fantastic. I've worked with him to price match a large Katana and got it several hundred dollars cheaper because a store in Ontario was selling them for cheaper. I've purchased about 8-10 knives from him and he's a Top notch guy to deal with.
Thanks all you haters out there that complain that all I do is complain! This is for you guys 🙂