Posted by the dood on Sunday, January 27th, 2013
Edwin Jagger Aloe Vera Shaving Cream Tube
Product: Shaving Cream
Size: 75ml/2.5oz
Origin: Made in EU
Street Price: $16.00
Price Per ml: $0.21
My second shaving product review comes in the form of a Edwin Jagger Aloe Vera Shaving Cream review. I received this as a Christmas present from my wife, when she happened upon an Edwin Jagger dealer in a mall we don't visit often. She bought me several items, and this was one of them. Edwin Jagger products are among the better stuff I have tried, and gives a luxurious feel. The creams are on the pricier side because for $16 you only get half of what most other brands give you, similar to a travel size. The price per ml is $0.21, which I will use for comparison on later shaving creams.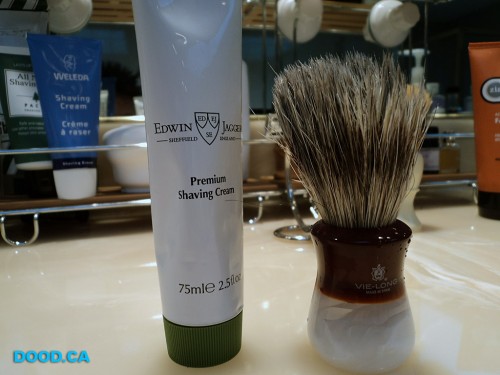 While I have used my Vie-Long Horse and Badger mixed brush for these photos, my review will take into account all the brushes I own and have used with the Edwin Jagger Aloe Shaving Cream. It was just the Vie-Long I happen to be using the morning when I decided to write the review and take the photos. I soaked my Vie-Long for a couple of minutes while I washed my face and applied some pre-shave, which is how I usually prep my brushes. Excuse the funny sideways directioning of the brush, it was wetted and I gave it two decent shakes giving it the funny look in the following photos.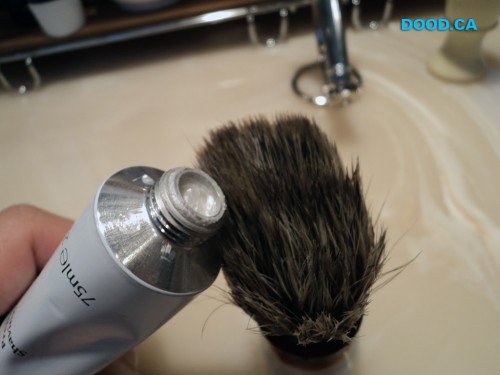 My guess is that the tube would probably last about 30-40 uses, but that's just a guess. I haven't used up my tube yet, but I do have a backup tube already! That's just a hint about how much I like this stuff. The scent is very fresh and non-descript, just an overall pleasant and non-lingering scent.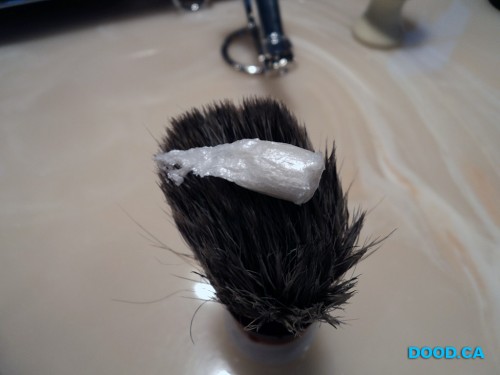 I use the proverbial "almond-sized" amount with the Edwin Jagger shaving cream, as it seems to work well. The cream has that iridescent sheen to it that a lot of shaving creams seem to have. Not sure what ingredient causes this sheen, but maybe Glycerin. The Edwin Jagger Aloe Vera cream lathers quite easily and I tend to prefer this cream with less water as it has a nice rich and very slick feel to it – pure luxury. The cream lathers very quickly too – about 45-60 seconds in the bowl is good for bowl lathering and on the face its pretty immediate.
For those that don't know, the Edwin Jagger creams and soaps are exactly the same as the Muhle Creams and Soaps of the same scent.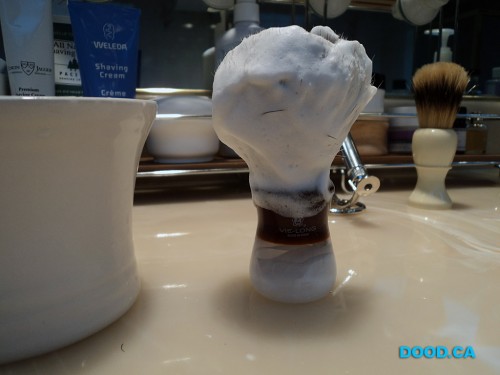 There's my loaded Vie-Long, this one I whipped for about 40 seconds, and it is a badger/horse mix. I really like the Edwin Jagger Aloe cream because it goes on really nice and thick with tons of cushion and slickness, and leaves my skin feeling VERY moisturized. It is one of the most moisturizing creams that I have used, and does so without the use of parabens. The packaging claims 99% natural ingredients which is nice.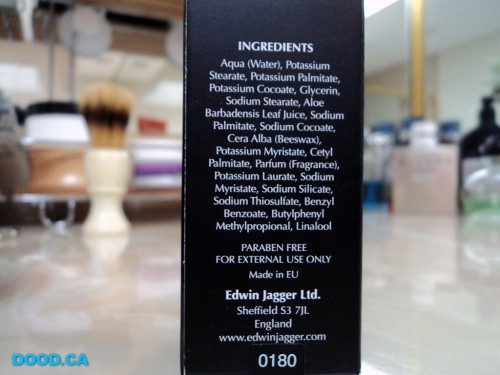 Here is the Ingredients:
Aqua (Water), Potassium Stearate, Potassium Palmitate, Potassium Cocoate, Glycerin, Sodium Stearate, Aloe Barbadensis Leaf Juice, Sodium Palmitate, Sodium Cocoate, Cera Alba (Beeswax), Potassium Myristate, Cetyl Palmitate, Parfum (Fragrance), Potassium Laurate, Sodium Myristate, Sodium Silicate, Sodium Thiosulfate, Benzyl Benzoate, Butylphenyl Methylpropional, Linalool
Overall a fantastic cream that I will buy more of (I already have a backup tube). I have also tried the sandalwood which I really like but haven't tried the sea buckthorn cream yet. The Aloe is very moisturizing and has a great scent that doesn't interfere with any Aftershave or Cologne/EOT that you might be using either. Here is my rating below, but as usual, YMMV.
Scent: 7/10
Lather: 8/10
Cushion: 9/10
Glide: 9/10
Moisturizing: 10/10
Packaging: 8/10
Value: 7/10
Overall: 8/10
Associated Products Used in This Review: Vie-Long Horse and Badger Mixed Brush, Apothecary Shaving Mug.