Posted by the dood on Tuesday, February 5th, 2013
Queen Charlotte Soaps Esquire Pre-Shave Lotion
Product: Pre-Shave Lotion
Size: 30ml/1oz
Origin: Handmade in USA
Price: $10.00
Queen Charlotte Soaps (QCS) is an 'artisan' soapmaker based in Queen City, Charlotte, North Carolina which is also their namesake. Owned and operated buy a mother and son – Petra and Matt, they produce some of the most fantastic Shave Creams available. One of the things I like the best about QCS is their scents. I have tried several, and Esquire is my favourite of the ones I've tried, especially for Winter or colder days.
I'm not reviewing their shaving cream here, but the scents are available in Pre-Shave lotions and Aftershave balms as well, and have a consistent scent throughout. I have the whole line of Esquire, and it is fantastic. The Shaving cream has a top note of Lime that is quite noticeable especially when you start lather, but it is much more subtle in the Pre-Shave lotion.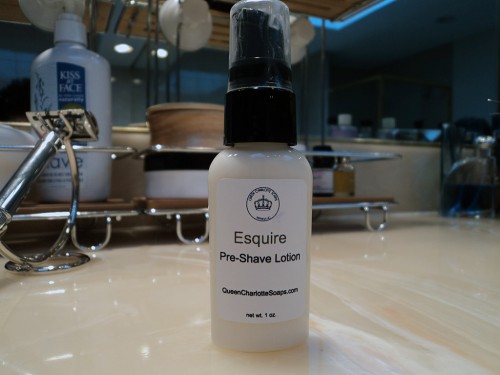 The smell is a very professional blend of earthy essential oils along with sandalwood (no fragrance oils used). Esquire's scent is done very well, and doesn't suffer from the often amateur smelling essential oil blends that plague many artisan products. QCS did a good job blending this one. I've tried many handmade artisan products and quite often they smell like someone just took a handful of essential oils and just mixed them until it seemed acceptable.
That's about one pump, and about half of what I use each time.
I guess my biggest complaint is that the bottle is very small, and does not last long. I use two squirts, one for each cheek, every time I use it. I don't think it really adds much slickness to my shave, but it moisturizes my face and absorbs very quickly, much quicker than Aftershave balm and also provides a nice whiff of scent while I am lathering my shaving cream of choice for the morning. I really enjoy this aspect of my shaving routine and so moisturization and scent are very important. I do find that my skin feels more moisturized after my shave when I use this Pre-Shave lotion, however, and that's a big plus for me especially in the colder, dryer months.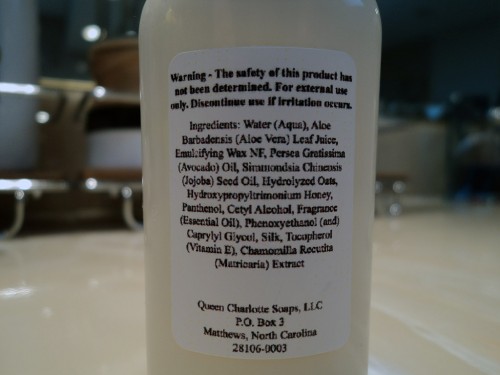 In general, this QCS Pre-Shave is an excellent product that adds a lot of enjoyment to my daily shaving experience, and I will continue to buy it. The options out there for Pre-Shave products is limited, and consists mostly of oils which I find messy and awkward to use. Queen Charlotte Soaps Esquire Pre-Shave Lotion is a great alternative to those looking for a non-oily pre-shave.
Here are the ingredients:
Water (Aqua), Aloe Barbadensis (Aloe Vera) Leaf Juice, Emulsifying Wax NF, Persea Gratissima (Avocado) Oil, Simmondsia Chinensis (Jojoba) Seed Oil, Hydrolyzed Oats, Hydroxypropyltrimonium Honey, Panthenol, Cetyl Alcohol, Fragrance (Essential Oil), Phenoxyethanol (and) Caprylyl Glycol, Silk, Tocopherol (Vitamin E), Chamomilla Recutita (Matricaria) Extract.
Scent: 10/10
Performance: 8/10
Packaging: 5/10
Value: 7/10
Overall: 8/10