Posted by the dood on Friday, April 12th, 2013
Ace Shaving is one of several Chinese Shaving Brush and Razor manufacturing/distributing companies that sell online via eBay, and other online storefronts. Some other notables would include Frank Shaving and Lijun Shaving, both of which are sold through several different distributors it seems. Ace Shaving's products don't have any marking on them but they also offer knots separate from the handles, which is uncommon with the Chinese vendors. Their knots only come in a few select sizes and some in lot sizes only. The one that I'm reviewing today is the 24mm Extra Density silvertip that is quite popular amongst the shaving crowd.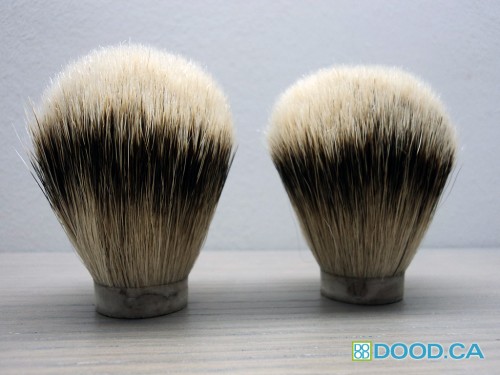 The 24mm Extra Density Silvertip knot comes in a lot of two pieces only, and costs $40 + $5 shipping from China. This puts it at a higher price than the Silvertip knot from TGN, which one would naturally want to compare it to. However, it is a much higher grade knot than the standard silvertip from TGN. If you've seen a silvertip from TGN, you'll know that this looks quite different, with much lighter colored tips. From a looks perspective, the Ace Shaving Silvertip more resembles a Super Badger treated silvertip from TGN, which is a significantly more expensive knot. However, in use and feel, it is different from both.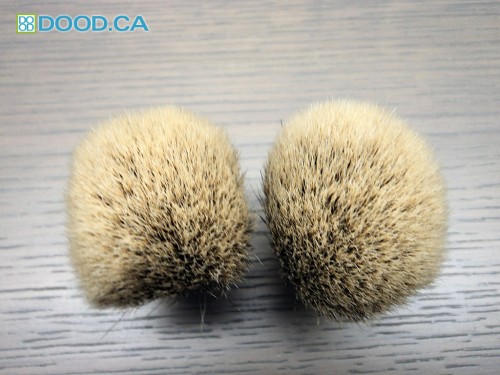 As you can see, this is a very dense knot, with light, cream-colored tips. The Knot base is a rubberized epoxy type of base and measures almost 24mm exactly. The density of the hairs causes them to flare out immediately after the knot base to 25mm, so its best to mount this knot in a 26mm hole in my opinion. I tried it in a 25mm hole and it wasa bit of a tight fit, but I suppose if you like it would still make a fine brush.
I mounted the first on about 10mm deep, in an older Fuller Brush handle restore. I wanted it to have a balanced look so I chose not to mount it too deep. In retrospect I wish I mounted it just a little bit deeper, just to get a bit more backbone. The brush isn't really floppy compared with the TGN silvertip, but has a slightly larger amount of flop than the TGN Super Badger. The tips are super soft, and mounted at the right depth this knot would be great for face lathering. I will mount my second knot to a 48mm loft, rather than the 56mm loft that this one has. In the dozen or so times I've used it, it shed a couple hairs in the beginning and has stopped shedding since.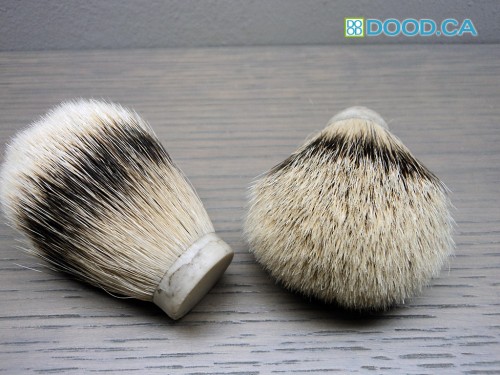 Overall this is an awesome bang for buck silvertip knot, which at $20 each is probably the best $20 Silvertip that you can buy. I've been told that these are the same as the Whipped Dog knots, but that is speculation. However, if $5-10 extra is not a lot of money to you, I'd recommend going to a TGN Super Badger or a Grade A. If you just want lots of variety in your shave den, this is definitely no slouch. Great value product, recommended!
General Specs:
Softness: Very Soft
Backbone: Slightly Floppy
Density: High Density
Edited to add:
See my review of the Ace Shaving Best Badger in 21.5mm diameter.