Posted by the dood on Wednesday, May 22nd, 2013
This is my first installment in the TGN Knot Review series to help potention buyers of The Golden Nib Shaving brush knots have an idea of what they are buying since TGN doesn't give the best descriptions. Hopefully you will find this review of the TGN Best Badger knot helpful!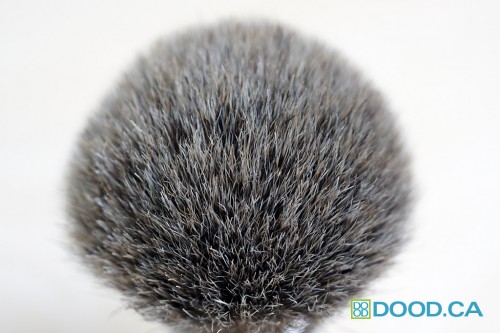 The TGN Best Badger is a very good knot, and actually more expensive than the Standard Silvertip knot from TGN, and in my opinion, better. The Best knot I have here is a 22mm Extra Density knot that does not appear to be offered anymore on TGN. The hairs are a mixture of trimmed hair and naturally terminating tips, with a variety of grey, brown and banded badger hairs. The end result is a slightly banded, mixed blend of hairs that provide a fair amount of backbone, and has a similar softness/scritchiness as Edwin Jagger Best. It is a bit more scritchy than Simpsons Best.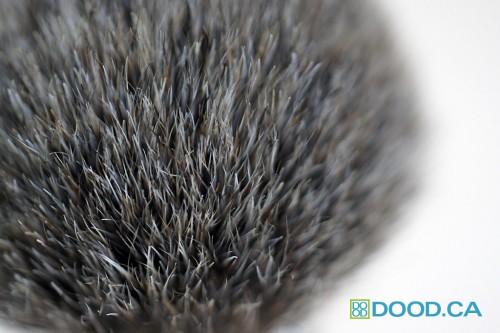 See the close up above, showing the tip variety more closely. You can see that there are quite a few tips that are naturally terminating and that helps towards softness. The hairs are of a medium thickness, which gives the knot decent backbone, but not quite as much as a TGN Finest 2-Band. The TGN Best knot is above the standard Silvertip in quality, but not as good as any of the other silvertip or finest knots from TGN in my opinion. If you prefer the feel of a little scritch, however, it is a good choice for you as none of the higher end Silvertips nor the Finests have any scritch. Flow-through is average on this knot, and it gives it up when necessary.
TGN Best Badger Knot Specs and Rating:
Softness: 5
Scratchy
Soft
Backbone: 7
Floppy
Strong
Scrub: 5
Gentle
Scrubby
Density: 6
Sparse
Dense
Hair Thickness: 6
Thin
Thick
Flow-Through: 5
Lather Hog
Lather Giver


Click here to see a list of all TGN Knot Reviews here.