Posted by the dood on Wednesday, May 22nd, 2013
The Golden Nib's Finest XH Badger knot (EDIT: These are now just called "Finest") is probably the most popular and well known of all their knots and possibly one of the most talked about shave knots in all of shavedom, and for good reason. This is a fantastic 2-band knot with very nice density, scrub and soft tips that compares (in my opinion) with some of the top brands out there. 2-Band knots are usually sold at a premium with the high end brands, and have a very solid and loyal following.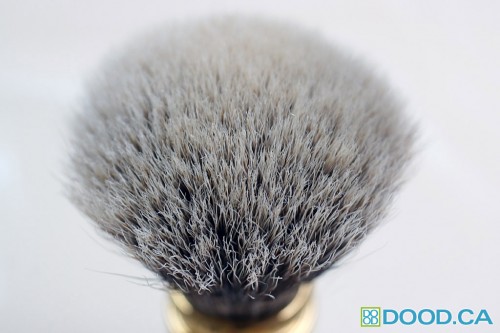 TGN brings to the table a high quality 2-Band Badger in the mid $20 range, which is several times cheaper than the big brands. TGN has released a new Premium Finest 2-Band knot as well recently that I have not yet tried and won't be able to compare this to those slightly more expensive knots yet – but I can't wait to try them too!
This knot has a good amount of density, just enough for it to feel good on the face, and not too much to affect flow-through and latherability. When set at a low loft, it has incredible scrub and amazing exfoliation – when set at higher loft, it makes a great bowl latherer and still scrubs and exfoliates well because the hair has such great backbone. All tips are natural and not trimmed in the TGN Finest.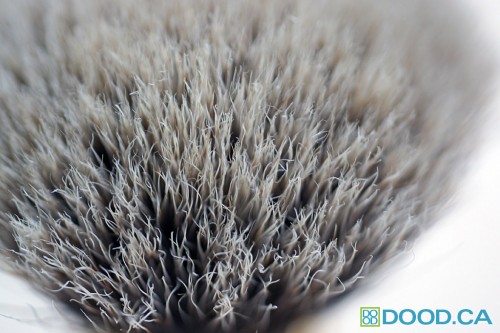 As you can see, this knot has creamy white tips that are hooked and twisty. The hooked tips occur after a few uses and the result is the gel-like tips that compare with the lengendary Rooney 2XL. One Caveat: Not all TGN Finests develop the gel-like tips, as some batches vary. I have four TGN Finests, and three of them have gel-like tips, one does not.
The TGN 2-Band is an interesting hair because it is quite a coarse grade of hair providing plenty of backbone that face latherers in particular seek out. However, the TGN finest also exhibits extremely soft and fine tips which result in the gel-like experience. I remember when I first got this knot, I worried because the tips would always dry hard and it was difficult to get the soap out because of the gelling of the tips. Now I just enjoy it!
TGN Finest Badger Knot Specs and Rating:
Softness: 7
Scratchy
Soft
Backbone: 9
Floppy
Strong
Scrub: 8
Gentle
Scrubby
Density: 7
Sparse
Dense
Hair Thickness: 9
Thin
Thick
Flow-Through: 6
Lather Hog
Lather Giver


Click here to see a list of all TGN Knot Reviews here.